Monthly Archives:
February 2011
UK sales of weapons and arms to the Middle East are in the news. So what is the market, run by the government's Strategic Export Controls, worth?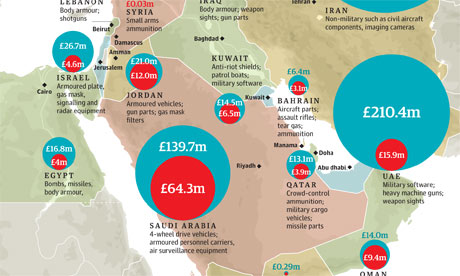 How big are arms sales to the Middle East and North Africa? The unrest in Libya, Tunisia, Egypt and across the region has brought attention to one of the UK's most successful export markets: military equipment.
It's a world shrouded in secrecy, and centred on giant arms fairs, such as Idex, taking place in Abu Dhabi. In the UK the international arms trade is managed by Strategic Export Controls, which grant licenses. They're not just for arms, but for a whole range of 'controlled' products. Here's the official take from the Department for Business, Innovation & Skills:
… Let's look at Libya. The data shows that £215m worth of export licenses for controlled products were granted to companies selling stuff to Libya in the year to the end of September 2010. Of that amount, just under £8m were for equipment defined as military. Those products include riot control gear and tear gas.
Iran features on this list too, not for military equipment but for 'other' products – £424m of them. They include civil jet engines, chemicals and civilian aircraft.
* * * * *
David Cameron's Cairo visit overshadowed by defence tour
Long-scheduled trade mission with eight leading UK defence companies to Gulf states
David Cameron's efforts to promote democracy in the Middle East by becoming the first foreign leader to visit Cairo were overshadowed as it emerged that he will spend the next three days touring undemocratic Gulf states with eight of Britain's leading defence manufacturers.
After a hastily convened stopover in Egypt, where he spoke of being "inspired" by protesters, the PM began a long-scheduled trade mission by landing in Kuwait, a key military ally. Britain has approved 1,155 arms export licences for Kuwait since 2003, worth a total of £102.3m, according the Campaign Against the Arms Trade.
Key deals on the table this week include the sale of Eurofighters to the Gulf.
Meanwhile Gerald Howarth, a British defence minister, was also attending the region's largest arms fair, in Abu Dhabi, where a further 93 British companies are promoting their wares. They included companies selling rubber bullets and CS gas for crowd control as well as heavily armoured riot vans….
* * * * *
Cameron says UK prejudiced for believing Muslims cannot manage democracy
Britain has been guilty of a prejudice bordering on racism for believing that Muslims cannot manage democracy, David Cameron will say as he recasts foreign policy in light of protests across the Arab world.
In a speech at the national assembly in Kuwait, the prime minister will abandon decades of so-called "camel corps" diplomacy by saying Britain was wrong to prop up "highly controlling regimes" as a way of ensuring stability.
… But he indicated that the demonstrations presented a challenge for Britain as he dismissed as a "false choice" the old calculation that authoritarian regimes needed to be supported as the price of ensuring stability.
"For decades, some have argued that stability required controlling regimes and that reform and openness would put that stability at risk," Cameron said.
"So, the argument went, countries like Britain faced a choice between our interests and our values. And to be honest, we should acknowledge that sometimes we have made such calculations in the past."
He added: "But I say that is a false choice. As recent events have confirmed, denying people their basic rights does not preserve stability – rather, the reverse." Continue reading →